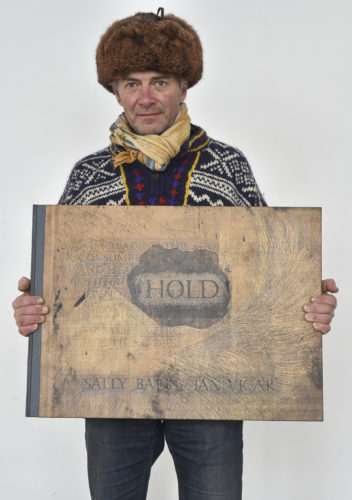 HOLD, a limited-edition artist's book in collaboration with Czech gravurist Jan Vičar, ranges over many topics: climate anxiety, corporate doublespeak, international migration, nuclear energy, and the—in this context—counter-intuitive beauty of the world. The poem departs from an idea explored in Roy Scranton's ecological lament Learning to Die in the Anthropocene: namely, that our obsession with thriving (from a Norwegian root word that means grasp or hold) is intensifying our environmental crisis. The book and outtake works have been exhibited in Austria, France, Germany, Japan, Spain, and the US. The poem appears in Ball's third full-length collection, Hold Sway, about which the New York Times writes, "[Q]uestions of how to hold and be held; what holding is; and how to tether ourselves govern Ball's collection. Her poems are often breathtaking."
Daisy Fried, in her citation for Scoundrel Time's Editor's Choice Award in Poetry, writes, "Sally Ball's 'Hold' is a rigorous, gorgeous, personal and political examination of climate change. Part prayer, part song, part analysis, part fragments of narrative."
—
The artist's book measures 26 x 20 inches and comprises 62 pages. It is printed on 300-gram Somerset paper. It is an edition of 35, with each one nonetheless unique. For example, for #13 (owned by the University of Iowa Special Collections), the paper was printed entirely with black ink, then overlaid with rose, then gold, and then the linocut plate gave a fourth impression on top of those. Vičar then adds additional lino print images and textures onto the main text or image of any given page, so each page of each copy is unique.
See a gallery of images from HOLD
About Jan Vičar
Vičar studied at the Academy of Fine Arts in Prague. He has exhibited his work around the world—across Europe, in Japan, the United States, and South Africa. He has twice won Prague's Print of the Year in the experimental category. He is the recipient of the 2018 Prix de Gravure Mario Avati from the Académie des beaux-arts in Paris. He lives outside of Telc, in the forest in West Moravia, in the Czech Republic. More information at janvicar.com.
Please contact sally.ball@asu.edu (in English or French, and especially for sales in the US), or jan.vicar@seznam.cz (for sales in Europe and elsewhere).
In 2019, there will be a fully engraved version of the book in translation into French.
TRANSLATIONS:
"Hold" — poème en français
"Hold" — "Halten" auf Deutsch
"Hold" — in Japanese